Mich - Aculco Canyon
Training
Mexico is one of the most interesting countries to explore, enjoy and study the marvels which the caverns offers.
It is required for a safe caving to learn special techniques. In the VERTIGO MEXICO'S SPELEOLOGICAL ASSOCIATION we enjoy to teach our future caving partners.
The cave exploration offers great fun and is an excellent. It is a true challenge for those who enjoy to explode our maximum capacity.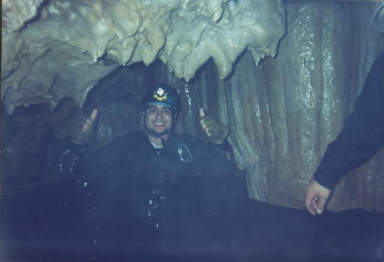 Enrique - Mogote
The training includes:
ˇ Theory, where we explain the genesis of the caves. Slides showing the different speleothems will be projected and we learn the different knots.
ˇ Practices of vertical rope ascension with pulleys.
ˇ Practices in natural places in with you'll learn the rappel and diverse techniques.
ˇ Trips to different caves.
ˇ We borrow you all the necessary gear.
ˇ Diplomas.
There is a fee of gear recuperation and managing
For further information please contact us by email