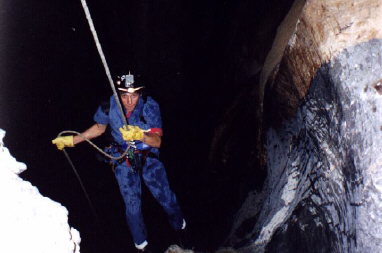 Alejandro - La Joya
Trips
We make an average of 40 trips by year divided in 6 different kinds:
1. Training trips

In which the students will begin their caving in easy horizontal and vertical caves and then increasing the difficulty. This trips obviously are only in training.

2. Learning trips:

In which we invite some specialist, either a biologist, geologist, etc... to learn from their specialty in topics related to caves. We schedule this trips whenever we have some theory problems, and we do not doubt in make an invitation.

3. Practice trips:

We need this days in order to improve our technique, generally we practice in the mountains, cascades or canyons. We also prepare us challenges in control environment, e.g.. with pulleys, to analyze our technique and learn to sort future complications.

4. Technical trips:

In this trips no student are allowed, only experienced cavers to avoid incidents and enjoy a technical cave.

5. Surveying trips:

Every year we survey caves, we're trying to find some deep, long and beautiful caves.

6. Guides

We guide people to the principal national caves and we enjoy to meet national and international cavers.